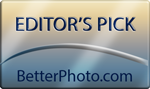 Old Church at Carcross, Canada
Old Church at the end of the Chilkoot Trail at Carcross,Canada. The trail was used by prospectors heading for the gold rush some 100 years ago. Aperture: F10, Lens:
© William S. Briggs
Copyright for this gallery photo belongs solely to William S. Briggs. Images may not be copied, downloaded, or used in any way without the express, written permission of the photographer.