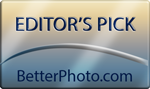 Humpback Whale Peduncle Maneuver
Whale watching near Juneau, Alaska. The day was beautiful and the Humpbacks and Orcas were very cooperative. The peduncle maneuver of the Humpback Whale is a sideways thrust of the lower part of the whale's body out of the water. Aperture: F9, Lens: 80-400mm @ 400mm, ISO: 800, Shutter: 1/1000, Location: Juneau, Alaska.
© William S. Briggs
Copyright for this gallery photo belongs solely to William S. Briggs. Images may not be copied, downloaded, or used in any way without the express, written permission of the photographer.