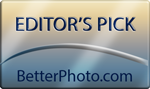 Rare Amur Leopard II
Amur Leopard at the Lyon Zoo in France. There are only 30 known surviving Amur Leopards in natural habitats in the world. It is a solitary, nocturnal leopard who mostly reside in the Amur River basin of eastern Russia. It is classified as the rarest cat on earth. The Zoo in Leon, France is one of the best I have visited. The animals and birds are in terrific condition and the zoo is in a large park with lots of open space, a lake and natural settings. A great place to visit and photograph.
© William S. Briggs
Copyright for this gallery photo belongs solely to William S. Briggs. Images may not be copied, downloaded, or used in any way without the express, written permission of the photographer.