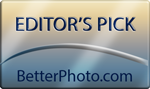 Immature Bald Eagle Landing in Alaska
Young Bald Eagle coming in for a landing in a tree near the Russian River in Alaska.
© William S. Briggs
Copyright for this gallery photo belongs solely to William S. Briggs. Images may not be copied, downloaded, or used in any way without the express, written permission of the photographer.