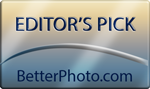 Major General John F. Reynolds
Gettysburg Battle re-enactor portraying Major General John F. Reynolds at Gettysburg National Military Park. General Reynolds was killed in action on the morning of July 1, 1863 on McPherson Ridge at Gettysburg, PA while positioning troops to reinforce Brigadier General John Buford's cavalry. Aperture: F4.8, Lens: 18-200 @52mm, Shutter: 1/50, ISO: 500. Although he was backlit, a white tent that he was facing did a nice job as a natural light reflector.
© William S. Briggs
Copyright for this gallery photo belongs solely to William S. Briggs. Images may not be copied, downloaded, or used in any way without the express, written permission of the photographer.