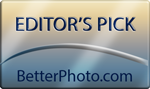 Filling Up On Pollen
There must have been lots of pollen in that flower since I ran in the house got my camera, put an SD card in it and came back outside while he was still on the same flower. I shot it at 300mm, F29 from about 3 feet to find a way through the flowers, leaves and buds that would allow me to find and focus on his head.
© William S. Briggs
Copyright for this gallery photo belongs solely to William S. Briggs. Images may not be copied, downloaded, or used in any way without the express, written permission of the photographer.