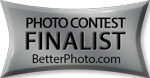 Spring Cactus Flowers
A beautiful floral display to admire for one day a year. Such a beautiful flower that only lasts for just a single day each year. I selected the background and replaced it with solid black in Photoshop to put the focus on the flowers and cactus..
© William S. Briggs
Copyright for this gallery photo belongs solely to William S. Briggs. Images may not be copied, downloaded, or used in any way without the express, written permission of the photographer.