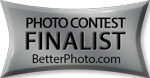 Mt. McKinley from Denali National Park
Denali National Park with Mt. McKinley in the background some 60 miles away. The highest mountain in North America. A wonderful clear July morning and an unusually great view of McKinley which is completely or partially obscured by fog, rain, snow or clouds about 70% of the time. Aperture: F13, Lens: 80 - 400mm @ 82mm, ISO: 640, Shutter: 1/1600.
© William S. Briggs
Copyright for this gallery photo belongs solely to William S. Briggs. Images may not be copied, downloaded, or used in any way without the express, written permission of the photographer.